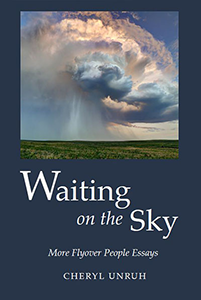 Waiting on the Sky – Winner of the 2015 Kansas Notable Book Award
In this collection of 72 essays, Cheryl Unruh connects with Kansas on a personal level. She writes about growing up on this open land, seeing the Arkansas River at flood stage in 1965, and about telling ghost stories with her brother and cousins in the spooky upstairs of her grandmother's farmhouse. The Kansas sky and weather are characters in her lifelong story, ever-present, feisty and beautiful.
Here is a sample essay from WAITING ON THE SKY: A Part of Kansas.
Order copies of Waiting on the Sky using the shopping cart button below.
$ 20.00  ~ Shipping and all applicable sales tax is included.
**Please note. Books will be shipped via U.S. Mail, so when providing your mailing address, if your town doesn't have home delivery, please use your P.O. Box address.